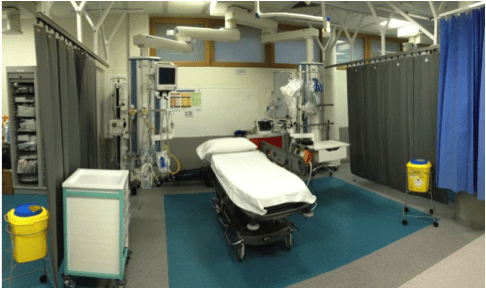 Are you an emigrated Irish doc in training in Oz or NZ and fancy coming home for 6 months as part of your training? Are you a kiwi or Aussie and fancy some time in Europe as part of your training?* Then these might be the jobs for you. These aren't just the standard queue busting, service provision jobs but an opportunity to gain some new skills. If you're working in Ireland and fancy a career development opportunity in one of the big Dublin hospitals then read on. 
[* the Mater is accredited for training in Ireland through the college of emergency medicine which is the specialist college for emergency medicine in the UK and Ireland. From communication with the Australasian College in Emergency Medicine (ACEM) we have been told that any trainee wishing to undertake training overseas and have that time accredited toward their ACEM training should apply to the college prior to beginning the post and obtain prior approval to have the training added toward their ACEM training.so as far as we know it should be approved for training by ACEM too]

The Mater Misericordiae University Hospital (The Mater) in north Dublin is one of the main tertiary centres in the country. It has the national spinal injuries centre and all major specialities apart from neurosurgery and as far as I'm aware it's the only place doing ECMO in the country. The hospital recently moved to brand new facilities including  a new Emergency Dept, theatres and ICU.
The ED encompasses a large 'acute floor' model with acute medicine working out of the same department.  There is a 5 bed resus with CT scanning within the resus bay. There is a dedicated ED ultrasound machine.
The hospital serves one of the more deprived areas of Dublin with the obvious result that it sees a fascinating range of pathology from stab wounds, pedestrian trauma to complications of alcohol and  intravenous drug use and all the interesting infectious disease complications that come with it. One of the emergency medicine trainees is a lead for an international HIV screening project in the department.
The ED has created several new posts at registrar level to attract new staff and facilitate career development. All posts have protected non clinical time to pursue the appropriate sub specialty. Clinical work will be on the registrar rota in the ED.
Descriptions from the job adverts below
EM/Imaging post
Clinical Fellow (Registrar level) in Emergency Medicine/Emergency Imaging – 2 positions available – These posts are designed to provide the successful candidate with specialised training in emergency medicine and imaging in one of the busiest emergency floors (including a dedicated emergency imaging department) in the country. Fellows will be exposed to all aspects of emergency care (adult) and a broad spectrum of emergency imaging, and will co-ordinate monthly Emergency Medicine/Radiology teachng meetings. Depending on the existing level of ultrasound experience, Fellows will be expected to achieve Level 1 competency in Emergency Ultrasound (ultrasound experience preferred but not necessary) or gain competency in at least 3 of 10 level 2 modalities (for a candidate already signed of at level 1). There will also be teaching and scope for education and research in all aspects of emergency imaging including CT/plain films/nuclear medicine and MRI. Successful candidates will be allocated protected weekly training time in the relevant imaging areas including ICU, ECHO, Vascular and Diagnostic imaging departments (approx. 30% of WTE). The remainder of the clinical commitment is to the emergency floor. [Worth noting that the Mater has a fellowship trained emergency radiologist who you will be working with – Ed]
EM Education post
Emergency Medicine Education Fellow (Registrar level) 1 position available a unique opportunity to engage in a quality improvement program (in keeping with new developments in career progression in Emergency Medicine) in the Mater Hospital involving protected time per week developing departmental teaching including the online SHO induction/education website, online guidelines for the department and the hospital, in addition to a clinical registrar commitment. (Approx 30% WTE in educational training).
Trauma clinical fellow
Clinical Fellow (Registrar level) in Emergency Trauma – 1 position available – the successful candidate will have protected weekly teaching in trauma/plastic surgery clinics and will have responsibility for co-ordinating trauma team organisation, audit and research, with opportunities for training in emergency trauma and musculoskeletal radiology in addition to a clinical registrar commitment (Approx. 30% WTE dedicated to Trauma training).
EM/ICM post
Emergency Medicine/Critical  Care Registrar comprising 9 months Registrar in Emergency Department plus 3 months in ICU, involving collaboration with Critical Care department for joint educational meetings and protocol guideline development offering opportunities for inter/intradepartmental quality improvement programs in keeping with new developments in career progression in Emergency Medicine.
Salaries are on the registrar scale which can be found in the appendix of this document.
Interested?
Feel free to send me an email at emergencymedicineireland (@) gmail.com and I can write or Skype you with more info. If you're at SMACC then I'd love to chat to you about it there.
Conflicts of interest
I work in the Mater and really quite enjoy it and it'd be lovely to have some more FOAMites to work with 😉 However my opinions are my own and do not necessarily represent that of the hospital.