I recently recorded some screencasts for the Royal College Emergency Medicine FOAMed network on how to produce podcasts interviews and screencasts. The show notes mentioned are below each video
01 – recording a solo podcast
Scott Weingart on getting started in FOAMed
Andy Neill's Social Media Workshop
Equipment
02 – recording a skype interview
03 – recording a screencast
Minh Le Cong has just created a video on he produces his podcast. He uses PC so there's some nice tips on there.
Blogs
So say you're keen to start putting out your own FOAM material, then starting a blog is a good way to start. Here's the website we set up at the workshop in 15 minutes.
This is what the 'dashboard'; the construction site of the website looks like.
This is all free and easy to do via wordpress. I would strongly encourage you to get a wordpress account and fiddle around with it. Here's an example of a website I made in 15 mins during the last EMS Gathering workshop just to show how easy it is.
I used to recommend wordpress.com to everyone but we've had some issues with hospitals in Ireland blocking any content even hosted on wordpress servers so I've recently moved over to DreamHost for everything and am currently hosting 4 different sites off the one account. It all works off a wordpress.org framework it's just that you're hosted on dreamhost not wordpress. So far it's all been very impressive. There's money involved. About €100 a year but if you're into this stuff it's well worth it. I have no financial interests here and I must thank Daniel Cabrera for the suggestion.
Google Plus
We only mentioned this briefly but I said I thought it was a brilliant platform for FOAMed but unfortunately under utilised. Its best features are probable communities [check outECG+ and the EMCrit community] and the google hangouts. Here's a nice example of google hangouts being used to stream a conference live.
Or here as a conversation between experts discussing some medical papers. Saves all the hassle (but not quite as much fun) of actually meeting up.
Google plus does the cool thing of recording these video calls for you and storing them as a (private) YouTube video that you can then post on whatever website you want.
There is also the rather nifty community feature on google plus that can function in the same way as the #FOAMed hashtag but allows much more substantial conversation and response rather than the 140 characters of twitter. Here's two examples
1) FOAMcc
2) ECG+
Screencasts
A screencast is typically a recording of what's on your screen with a voice over. It's a great way to share a lecture you've prepared with lots of other people. Once the video file is made you can upload it to YouTube, Vimeo or even better GMEP for other people to see.
Screenr.com let you record screencasts without having to download a separate app but I do a fair bit of this so I use one called screenflow. If you have a mac you can do this very easily by using quicktime on your mac. It comes free bundled with the operating software.
To do this:
1) Open QuickTime Player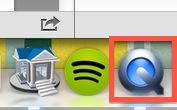 2) Start a new screen recording [File>New Screen Recording]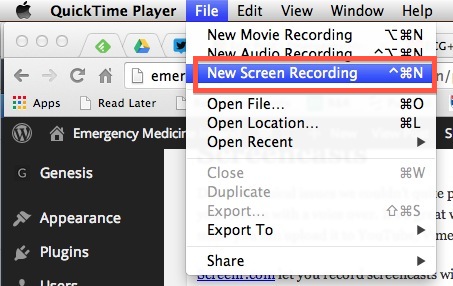 3) Choose Mic and Quality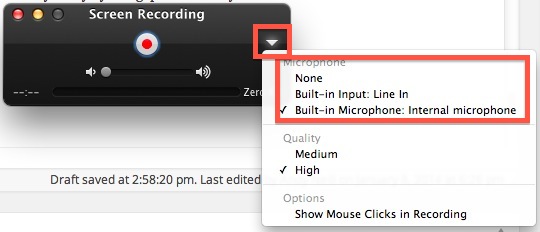 4) Make your screen selection or if recording a screen presentation, just start recording full screen then make your presentation full screen

At the end just press stop (there'll be a stop symbol at the top of your screen) and then you'll have a nice little video file of your screencast. Upload this to YouTube, put the link on Twitter and Robert is indeed your Mother's Brother.
Copyright
This is tricky and I in no way pretend to be an expert on it. The one thing we have in our favour in the #FOAMed world is that we're doing it for free. Everything gets a lot more tricky when you're trying to make money on it. That doesn't mean that you can simply do whatever you want just cause you're not charging. There is a real possibility that you might piss someone else by using their material without paying or without credit.
Everything I write I label as creative commons. This is an online movement to enable appropriate reuse and attribution of online resources. In general, creative commons resources can be used and modified freely as long as you 1) do not charge, 2) credit the original author.
Images
As I showed at the workshop, google have a nice search option for images labelled for non commercial re use. I use this extensively. Flickr has a similar service.
Videos
There are lots of great videos online. If you need to get one for use in a presentation then there's a site called SaveDeo that will create a video file that you can download and put in your presentation.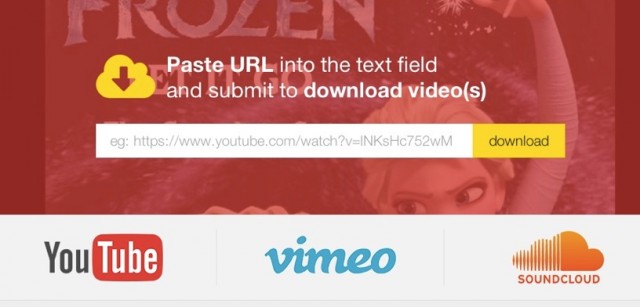 Lastly the app I used for displaying my iPhone screen was one called Reflector which is $12 but a really, really well put together app that lots of people recommended but I first found via Haney Mallemat and my brother the software developer. Of note it works best on a simple home network. When I've brought it to conferences the WiFi has occasionally been set up in a way that blocks it. You can get round this by creating your own ad hoc network from your computer. i found the instructions here
Directions for creating an ad-hoc network on a Mac computer.
Go up to the WiFi symbol on the taskbar on the desktop or laptop.
Pick "Create Network" and you get the "Create a computer-to-computer" network box.
Give it a name, pick either channel 1, 2, or 11, and secure it with a password if you want to.
On the iPad, go to Settings:Wi-Fi and pick the ad-hoc network from the list to connect to it.