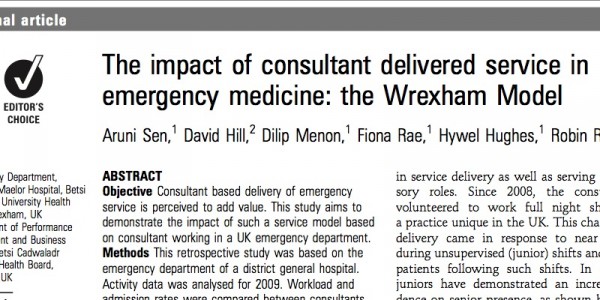 Sen A, Hill D, Menon D, Rae F, Hughes H, Roop R. The impact of consultant delivered service in emergency medicine: the Wrexham Model. Emergency Medicine Journal. 2012 Apr. 20;29(5):366–71. PMID 21490371
Emergency departments in the UK and Ireland are frequently staffed differently than they are in our major comparable nations (US, Canada, Australia and New Zealand).
There are advantages and disadvantages. Often there's a "the grass is always greener" thing going on and everything that happens in a different system to yours is better. This is not a post about how terrible EM is practised in the UK and Ireland.
One of the major concerns with EM in the UK and Ireland is the lack of EM consultants. The College of Emergency Medicine has appropriately highlighted this and made it a major target to increase consultant numbers. Having senior, trained people looking after you in the ED is (hardly surprising) important and is being (of course, slowly and with great difficulty) addressed.
The ED in Wrexham hospital is unusual in the UK as the consultant emergency physicians work regular night shifts. So if you come in with a sprained ankle or an aortic disseciton at 3am the chances are you will get seen by an ED consultant. At the very least there will be an ED consultant on the floor at 3am. [UPDATE: Comment from Matt – "To correct a minor point: in Wrexham, consultants work Monday to Thursday nights (block of 4 nights, about 3 or 4 times a year). Friday through to Sunday it's SHO tier (i.e. often second postgraduate year) only at nights.")
They have 5 consultants for 60000/yr and as a result only some of the nights are covered by a consultant on floor over night. The rest are covered by a middle grade doctor (think senior resident) with a consultant EP on call.
In the study they looked back at their numbers and waiting times and compared the night shifts when the consultant was on the floor with a night shift when a middle grade was on.
The comparisons are interesting (and no unproblematic) and show overall that there was a benefit to having to having a consultant on the floor at night.
I'm much more interested in the discussion that might stem from this:
For consultants currently in post – how would you feel about moving to work night shifts?
For trainees coming through – how do you feel about working night shifts till your 50s (or later)?
My thoughts
I find it frankly odd that the vast majority of the sickest, often most difficult and certainly high risk patients are looked after by (usually excellent and more than competent) junior doctors. We get away with it it seems but that doesn't make it a good idea. I think it's a great idea that we should do night shifts. Of course I may be totally wrong on that.
Having consultants on the floor is a wonderful opportunity to get trained. I've learned a lot of my most important lessons with a critically ill patient at 6am when the department is quiet enough to spend the time that needs to be spent with the sickest patients as opposed to "turf to medics" and get back to queue-busting.
It may be a complete waste to have consultants work night shifts. This all depends on your ED. Some EDs go quiet and attendance rate drops way off overnight. Is 60000 an appropriate cut off – maybe it should be 100,000. I'm a fan of big hospitals and big EDs, the trend to centralisation and closure of small hospitals is a good one even if not implemented all that well. Having a consultant on the floor overnight may not be worth it in a lot of the hospitals in the UK and Ireland.
there is significant variation in practice patterns between doctors (both junior and senior). Some see a lot of patients, some see a lot fewer. As usual there are good and bad aspects to this. You need to know your staff. If you have motivated consultant staff willing to engage in clinical practice like this then great, if it's mandated from on high and not planned with respect to your work force it may just be a rather costly and inefficient way to do things.