I was back up north doing a locum shift in my old stomping ground last week and had an opportunity to try out a new technique for shoulder reduction.
Shoulders are a lot of fun. They tend to be young and fit and that generally makes the sedation a bit easier.
But getting a sedation done seems to be getting increasingly difficult given the increasing patient numbers we're seeing. Let's face it, even getting someone with keys to get the morphine out of the cupboard can be a long process
There are a number of analgesia-free and sedation-free reduction techniques out there though I've always been a bit suspicious.
Then I watched this video by Billy Mallon (via EMEDhome).
I'd tried scapular manipulation once before, with the guy sitting in the chair but no joy.
The key, it seems, is to get them lying prone on the bed and then try pushing the tip of the scapula medially.
Stay away from their shoulder, if you hurt them this isn't gonna work. It'll probably work much better on your young atheletes who are able to turn themselves onto their belly without you having to haul at them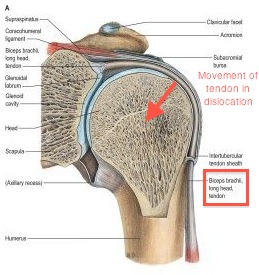 The other important thing to remember is to keep biceps out of play. If you remember your anatomy the tendon of the long head will be bowstringing over the glenoid fossa in the dislocated shoulder and any tension in it will make getting the head back in a real problem.
It took about 30 seconds or so of "massage" at the inf angle of the scapula and when it relocated there was only the faintest of clunks but the patient assured me it was back in.
If you're interested in more check out shoulderdislocation.net and in particular check out the video of the Cunningham method below. It looks a bit vodoo but it's impressive
[youtube http://www.youtube.com/watch?v=jIVjVRXo79w?rel=0]
Anybody else out there have any favourite techniques or tips?