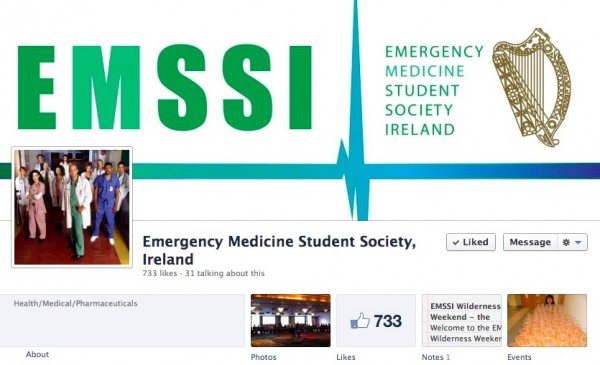 Now here's something that didn't exist when I was a lad. There is now an EM student society in Ireland. A few very motivated and enthusiastic med students got together and started this and I thought it was well worth a shout out. I'd thought vaguely about EM when I was a student but it was still fairly new and the pathways for training weren't nearly as well developed as they are now.
Anyhow, check them out and if you're a student in Ireland get in contact and find out why EM is the best specialty around.
This is what they have to say.
We are a student-run national society for any Health Science student interested in Emergency Medicine. Originally set up in Trinity College (Ed- where I used to teach), there is now an EMSSI branch in every University in Ireland with an UG or PG Medicine course. We sit on the IAEMTA Committee as student representatives, and the Chair of the IAEM Academic Committee Prof Ronan O'Sullivan is our Honourary President.

Our aims are

To provide a forum for interested students to experience life in Emergency Medicine in Ireland
To facilitate extracurricular up-skilling in clinical skills specific to Emergency Medicine; intubation, lines, resusc etc.
To educate about pre-hospital emergency management
To provide links to and information on EM sub-specialties, such as Expedition Medicine, Wilderness Medicine etc.

So, if you are a Health Science student with an interest in Emergency Medicine, we want to hear from you!

Getting in touch is easy: e-mail emssi.youruniveristy@gmail.com, e.g. emssi.tcd@gmail.com, emssi.ul@gmail.com, emssi.nuig@gmail.com etc.

Alternatively get in touch with us via Facebook  and we'll put you in touch with your local EMSSI Chapter for details on how to join.

Looking forward to hearing from you!
They also got a nifty write up here