John Died on July 4th 2015 following a crash doing what he loved at the Skerries road race in North County Dublin.
John was year above me in medical school. He was an intern in the same hospital the year before I was 11 years ago. My first ICU job was in the ICU he ended up a consultant in. We bumped into each other occasionally in resus rooms. I moved to New Zealand and lost contact with him. Before he reappeared in my life on twitter a few years  ago we were more acquaintances than friends.
Like so many people I've got involved with through #FOAMed you develop a relationship that's much more than just sharing pub med links and dark medical humour. I feel like I've become good friends with lots of people around the world through #FOAMed, John just happened to be one I'd already known in a former life, never mind the fact he also lived on the same small island.
I finally got to catch up with him again in person at SMACC Gold. Rob MacSweeney, John Hinds and me tagging along as the wannabe. Northern Ireland punching a tad above its weight as always.
Since then we met up a few times at the Irish meetings we were speaking at and I even got to record a podcast on airway management with him. I (like many others in Ireland) shared his love of trauma and the desire for a modern, organised trauma system. If we ever were to manage a physician HEMS across Ireland then that was a job I wanted. I looked forward to getting to work with him one day on it.
So his death needs marked, not so much for any sycophantic idolatry or hero worship that John would despise as much as anyone. Here's some proof: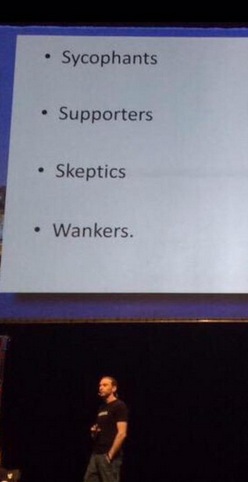 But a website with this title can't ignore the impact that John's passion and enthusiasm had on how we thought about and practised pre-hospital and critical care across Ireland not just the North. This blog was created in part to do just that yet John managed to pull it off much better with just a twitter account and a sense of humour. John was important for inspiring enthusiasm for emergency critical care in Ireland (something that has historically been somewhat "outsourced" to our anaesthetic colleagues) and it was even more important for people like me because he wasn't from our "tribe" of emergency medicine.
John was quite the personality no doubt, a daft pony tailed auld eejit too, but he was loved all the more for that. #FOAMed is full of wonderful mad eejits.
We all could have done with this daft auld eejit a while longer. You'll be sorely missed mate.
John's Family will miss him more than any of us and one wishing to send condolences please feel free to tweet/contact Rob Mac Sweeney  (@CritCareReviews)