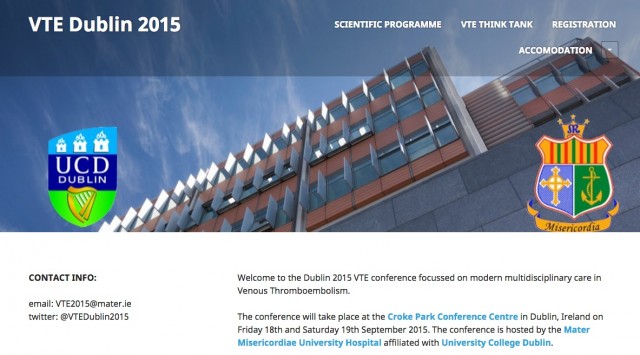 This is a brief heads up about a new conference coming in Dublin, Friday 18th – Saturday 19th September 2015.
My current hospital as a venous thromboembolism working group (which I am nominally a part of) consisting of the whole gamut of specialties involved in the diagnosis and management of VTE. From the ED to the long term haematology follow up we have it all and everything in between.
We have some really smart and passionate people involved, so much so they're planning the VTE Dublin 2015 conference.
The speakers come from a wide variety of backgrounds including the vascular medicine specialists who seem to "own" the disease in Europe. If you read the literature you'll recognise a lot of the names on the programme, it's a bit of a who's who in VTE. Perhaps the most familiar name to an EM audience is that of Prof Wells, of the Wells score fame.
It's looking like a great conference so check it out and the programme and book your place. We're also on twitter so follow for all the updates
[DOI: I am a tiny part on the planning committee and will receive some remunerating from developing the website (slowly…)]