OK, time to start pimping some Irish EM research. There's a fair amount of it and some of it is really useful. I distantly know some of the folk involved but alas have no part in producing any of it!
This is a paper (out of St James' Hospital, Dublin) that adds to the growing body of info that says ABGs have limited utility. A lot of EDs in Ireland have blood gas analysers in their resus rooms and it's not uncommon for a venous gas to be drawn when the cannula is places at triage.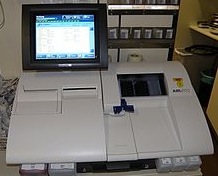 METHODS
effectively a convenience sample of COPD pts with exacerbations
got paired ABG and VBG (<5mins between samples)
a raised CO2 was considered >45mmHg on the VBG
RESULTS
n = 90 or so
age 70 or so
none were intubated
a third had raised arterial pCO2; 20% were acidotic
perfect agreement on the question "is the patient hypercarbic?" when a cut off of >45mmHg was used on the VBG
there were wide variations (average diff between ABG and VBG was 8.6mm) but even with this it still told you what you wanted to know
pH and bicarb were very tightly correlated
SUMMARY
in other words if the VBG has a high CO2 you need to do an ABG to find out exactly what it is, But if the venous CO2 is <45 then happy days.
REFERENCE
McCanny P, Bennett K, Staunton P, McMahon G. Venous vs arterial blood gases in the assessment of patients presenting with an exacerbation of chronic obstructive pulmonary disease. Am J Emerg Med. 2012Jul.;30(6):896–900. PMID 21908141