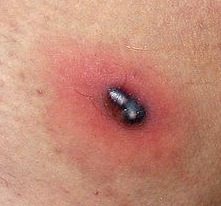 I don't know about where you work but if a patient comes in with an abscess too big to do under local (the wonderfully ineffectual local…) then they get admitted under the surgeons to get it done under GA. Obviously this can then involve up to a couple of days wait for a slot on the emergency list in theatre.
Think about that for a minute. We have a huge shortage of expensive hospital beds and we're getting pressure to manage every potentially life-threatening diagnosis on an out-patient basis yet when we have a usually well, usually young patient who needs a knife in an abscess they get admitted.
It took listening to Scott Weingart's excellent series on procedural sedation for the "well d'uh" moment to hit me – why the flip are we admitting these people? This seems like a really easy way to make a few less admissions.
We do a fair number of sedations, largely for orthopaedic stuff, but also for wounds in kiddies. The problem is not the procedure, from colles, to sutures, to abscess drainage – we can do all these things really easily, we just need to get the space and time to do the sedations.
Which brings me to my second point. The "protocol" (or at least just what we do) is to have 2 docs and 2 nurses for any sedation. One nurse looks after the airway, one nurse helps with the procedure, one doc does the procedure and one gives the drugs.
I think that's a bit of overkill (poor choice of words…) as even the ACEP guidelines on this suggest 1 nurse and 2 docs.
If we didn't need the extra nurse then it'd be a hell of a lot easier to get a few more sedations done.
Anyone else doing sedation for abscess?