I keep a little, ever-expanding note on my phone where I jot down little morsels of goodness that I pick up while listening to or reading one of the many excellent sites/podcasts in the useful resource section.
I'll try and transfer them here for your enlightenment.
From renal fellow network on central lines. Click the link for a few more.
use ultrasound – I was taught without ultrasound how to do all my lines. Now I don't do many but when I do I mainly do femorals or subclavians and with the subclavians US is not much use. If I was doing IJs I'd definitely use it.
make sure the needle is in the venous lumen by removing the syringe and watching how the blood comes out
have little pots of saline to wash out syringes if needed
keep control of the bloody wire!!! and it should be smooth on the way in and out
My own (fairly limited) tips
when passing the wire for a SC line get the patient to turn the head away from you. I like to think this narrows the IJ and reduces the chance of the wire going up the IJ. I've done that:
when securing the line I tend to put a wee bit of tension pulling the line toward the skin to stop it sliding in and out so much
if doing IJ without US then I use the needle I'm putting the LA in with to "find" the IJ. I then use that to guide the big needle to the vein.
in SCs I really hug the clavicle going under which can give you a slight kink in the line (below) which shows on x-ray but doesn't seem to affect flow rates. I've done about 50 or so and a haven't got a pneumo yet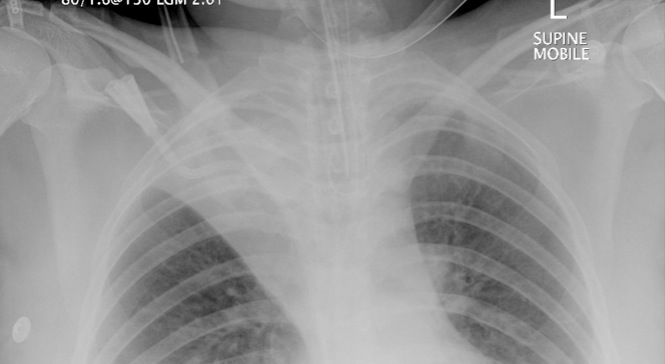 UPDATE
VinceD has a great tip from Michelle Lin's blog.
Inserting subclavian line: 10% risk that it will go up ipsilateral internal jugular (IJ) instead; finger-in-fossa technique— have assistant place finger in supraclavicular fossa, occluding IJ, then feed guide wire through subclavian vein; eliminates risk of wire going into IJ; patient complaints of ear pain, tickling in throat suggest wire in IJ.
UPDATE 2015
Scott has produced a fairly comprehensive review of central lines over at EMCrit which trumps this hands down… Check it out.