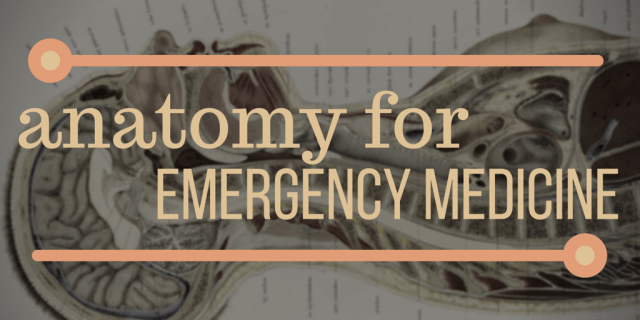 I spent a few years teaching anatomy here for a living.It wasn't EM but it was a lot of fun.
I've been doing some anatomy teaching for about 4 years now. My knowledge is still disappointingly thin but it's a veritable colossus compared to what it was when I left med school.
If I had to choose (please… don't make me choose) I'd take anatomy as the single most important subject in medicine.
Seeing as so much of what we do is diagnosis based (let's face it the specialists – or to be honest time – do most of the treatment) having a good grasp on where the bits of the body are and how they work (OK so i know that's sneaking towards physiology…) is key to what we do.
The increasing use of radiology and in particular ultrasound means we need to be the bees-knees at the anatomy.
If you can't tell trapezoid from your trapezius or the difference between spondylolysis and spondylosis and spondylolisthesis then here's an example of one of the videos.
For non iTunes users, try this page for the RSS feed.
Feel free to download, reuse and do send the videos on to anyone you know might be interested. All I ask is that you acknowledge where you got them from and don't try to make lots of money off them.
There are lots of ways of making screencasts but I use QuickTime, Keynote, iMovie and Screenflow on the Mac. If you want access to the original Keynote presentations/images send me an email.
Episode
Title
LINK
Keywords
Syllabus
32
Eye Anatomy Part 3
AFEM 32
ophthalmology
eye, ophthalmology
31
Eye Anatomy Part 2
AFEM 31
ophthalmology
eye, ophthalmology
30
Eye Anatomy Part 1
AFEM 30
ophthalmology
eye, ophthalmology
29
SMACC Gold Neuroanatomy
neuroanatomy
trauma
28
Fascia Iliaca Block
AFEM 28
anatomy, hip fracture
trauma
27
Basic Anatomy of Abdomen and Pelvic Trauma
AFEM 27
trauma, anatomy, abdomen, pelvis
trauma
26
Basic Anatomy of Chest Trauma
AFEM 26
trauma, anatomy, chest
Trauma
25
PK SMACC Talk: Neuroanatomy
AFEM 25
neuroanatomy
Neuroanatomy
24
Shoulder: Nerve Compressions
AFEM 24
Shoulder, anatomy, nerve compressions
Upper limb, shoulder
23
Shoulder: dislocations
AFEM 23
Shoulder, anatomy, dislocations
Upper limb, shoulder
22
Shoulder: AC and SC Joint
AFEM 22
shoulder, anatomy, SC Joint, AC joint
Upper limb, shoulder
21
Shoudler: Subacromial space and labrum
AFEM 21
shoulder, anatomy, subacromial, labrum
Upper limb, shoulder
20
Shoulder: The Rotator Cuff
AFEM 20
shoulder, anatomy, rotator cuff, BSCC
Upper limb, shoulder
19
Scaphoid Fractures - Anatomy for EM
AFEM 19
anatomy, scaphoid, wrist, fracture, BSCC
18
Scapholunate injuries
AFEM 18
wrist, Terry Thomas, scaphoid
Upper Limb, wrist
17
Colles Fractures
AFEM 17
Colles, wrist, fracture, orthopaedic, bones
Upper Limb, wrist
16
The LMA as a murder weapon
AFEM 16
Intubation, LMA, airway
Neck, cervical spine
15
SMA Syndrome
AFEM 15
superior mesenteric, bowel obstruction, aorta
Abdomen
14
Cavernous sinus
AFEM 14
Venous sinus thrombosis, diplopia, carotid cavernous fistula, cranial nerve
Brain
13
Posterior Communicating Artery
AFEM 13
PCA aneurysm, circle of willis, oculomotor palsy
Brain
12
Posterior Cerebral Artery
AFEM 12
Artery, vascular, brain, cerebrum, circle of willis
Brain
11
Anterior and Middle Cerebral Arteries
AFEM 11
Artery, vascular, brain, cerebrum, circle of willis
Brain
10
Internal Capsule
AFEM 10
stroke, lacunar infarct, circle of willis
Brain
9
Brain Herniation
AFEM 09
brain herniation syndrome, TBI, coning
Brain
8
Cerebral Venous Sinuses
AFEM 08
Cerebral venous sinus thrombosis, stroke,
Brain
7
Cricothyroidotomy
AFEM 07
Airway, cricothyroidotomy, pneumomediastinum
Neck, airway
6.3
Spinal Cord Injury
AFEM 06.3
brown-seqard, horner's syndrome
Spinal Cord
6.2
Spinal Cord Injury
AFEM 06.2
central cord syndrome, cauda equina
Spinal Cord
6.1
Spinal Cord Injury
AFEM 06.1
anterior cord syndrome, vertebral column
Spinal Cord
5
CSF circulation
AFEM 05
hydrocephalus, sub-arachnoid
Brain
4
LisFranc Injuries
AFEM 04
lisfranc, mid-foot
Lower limb, Foot
3
Ankle injuries
AFEM 03
weber classification, ATFL, ankle joint
Lower limb, Ankle
2
Vertebral Artery
AFEM 02
vertebral artery dissection
Cervical spine, vascular
1
Cervical Spine
AFEM 01
Atlas, axis, transverse ligament axis, anterior longitudinal ligament, vertebral column, peg fracture
Neck, cervical spine
C
Nasal Cavity
AFEM C
epistaxis, nasal fractures, septal haematoma
maxillo-facial
B
Cervical Spine
AFEM B
Atlas, axis, transverse ligament axis, anterior longitudinal ligament, vertebral column, peg fracture
Cervical spine
A2
Shoulder
AFEM A2
Shoulder, AC Joint, SC Joint
Upper limb, Shoulder
A1
Shoulder
AFEM A1
Shoulder, shoulder dislocation
Upper limb, Shoulder